Here is a list of DGWW events, past and in the near future. Future events are at the top, with closest dates first. Then we list past events, with order recent events first.
Coming Soon…
March 25, 2023, 1:30 -3:30 pm
Big Brother Big Sister "Woodworking: Make Your Own Kazoo!" Event at Bellefonte Youth Center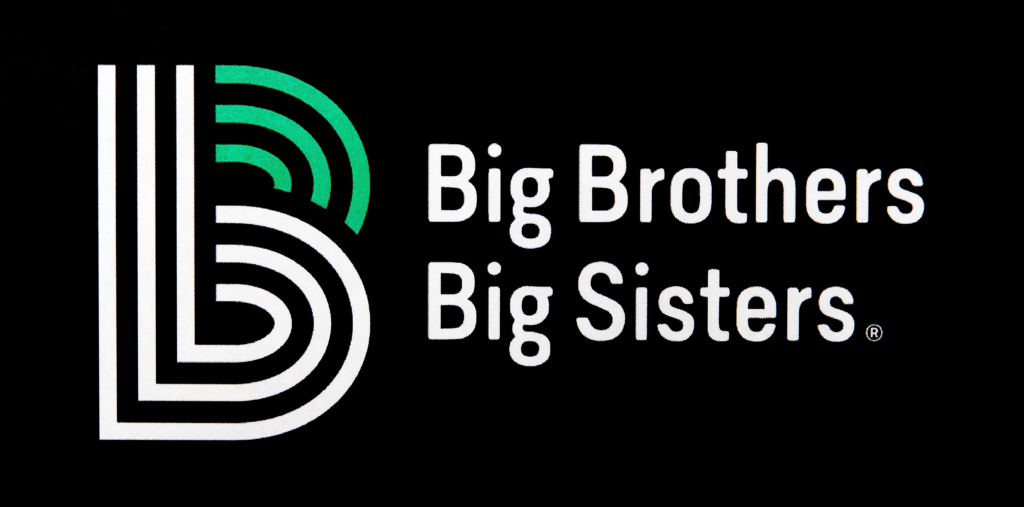 In this event Doing Good with Wood will mentor "Bigs" and Littles" from Big Brother Big Sister as they make and learn to play wooden kazoos. The event will be held at the Bellefonte Youth Center located at 114 N. Spring Street in Bellefonte.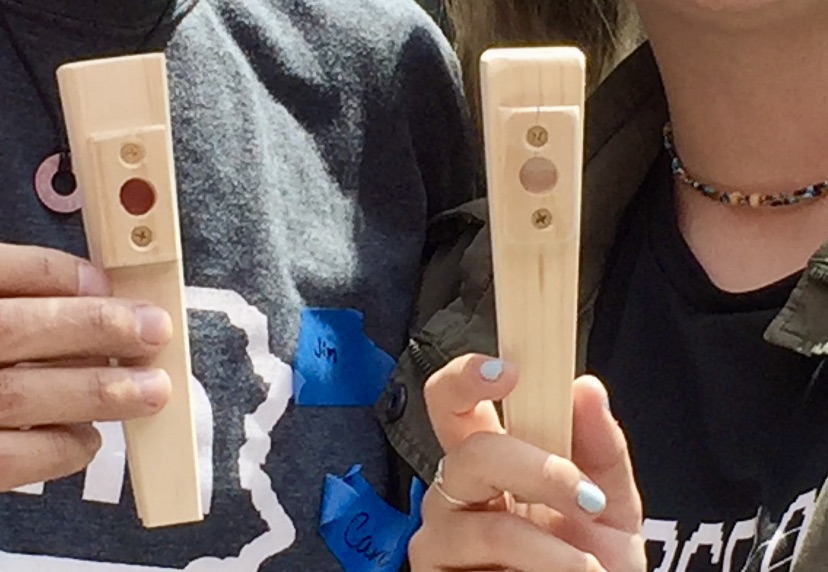 May 13, 2023, 12:00 – 5:00 pm – Saturday
Jana's Arts and Music Festival ("JAM Fest")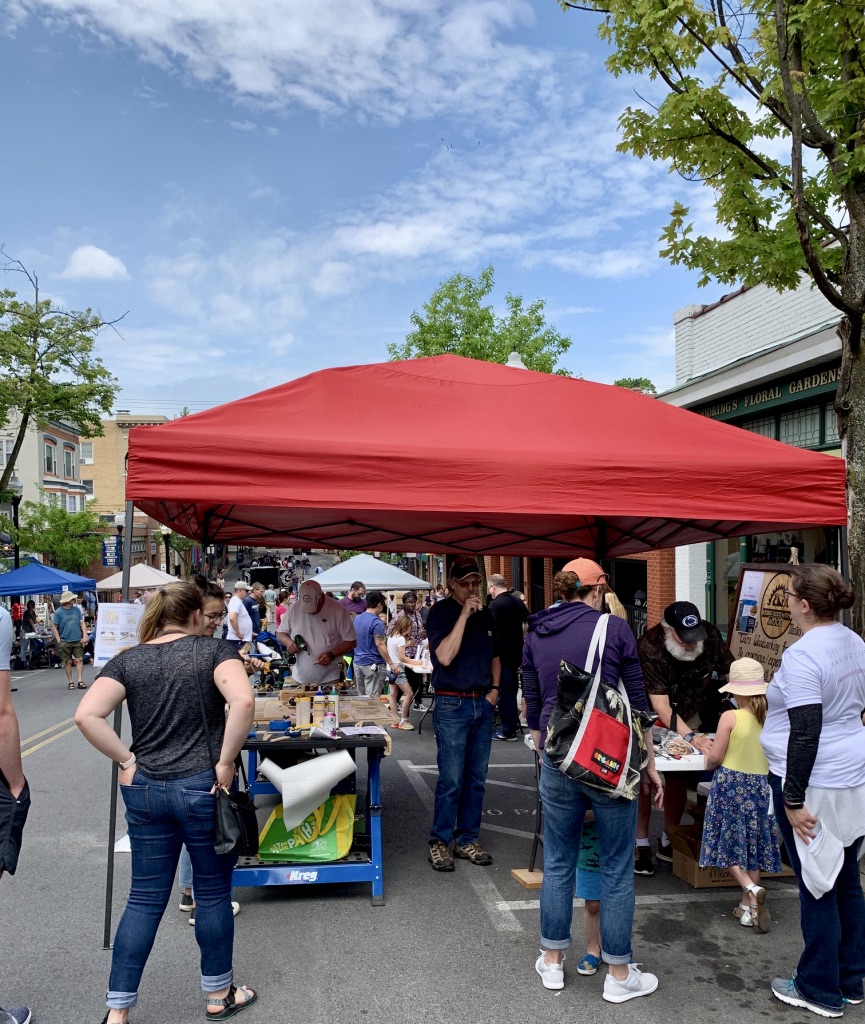 J.A.M. (Jana's Art and Music) Fest is a community-wide mental wellness day designed to help increase well-being, build connections, and foster self-expression. Held annually during Mental Health Awareness Month, this event features live music, yoga, meditation, stations for creative expression, art exhibits, and more, in addition to local community mental health and service providers who are available to discuss their services.
In our Doing Good with Wood space we'll provide all of the materials, tools, and advice you will need to make your very own wooden kazoo. And, we'll even teach you how to play it. The great thing about a kazoo is that the minute you learn to play it, you can play any song you know!
July 10 – 13, 2023, 8:00 am – 12:00 pm – Monday through Thursday
Penns Valley School District Woodworking Camp #1
DGWW was approached by Heather House to conduct a woodworking camp in the Penns Valley area. She connected us with the school district's Assistant Superintendent Sherri Connell who arranges their summer programs, who was very receptive. Sherri connected us with Colin Phillips, the high school wood shop teacher, and after a brief, upbeat meeting we were planning two four day, four hour classes during which twenty kids would learn basic woodworking concepts by completing fun, useful projects. We look forward to working with and learning from Colin, a bright, skilled fellow, in the same room and with the same tools the students might use when they enter high school. The two camps filled up within two hours of the registration opening, and we're really looking forward to it. Watch this space for a summary and photos form the camps.
July 17 – 20, 2023, 8:00 am – 12:00 pm – Monday through Thursday
Penns Valley School District Woodworking Camp #2
(See description for camp one above)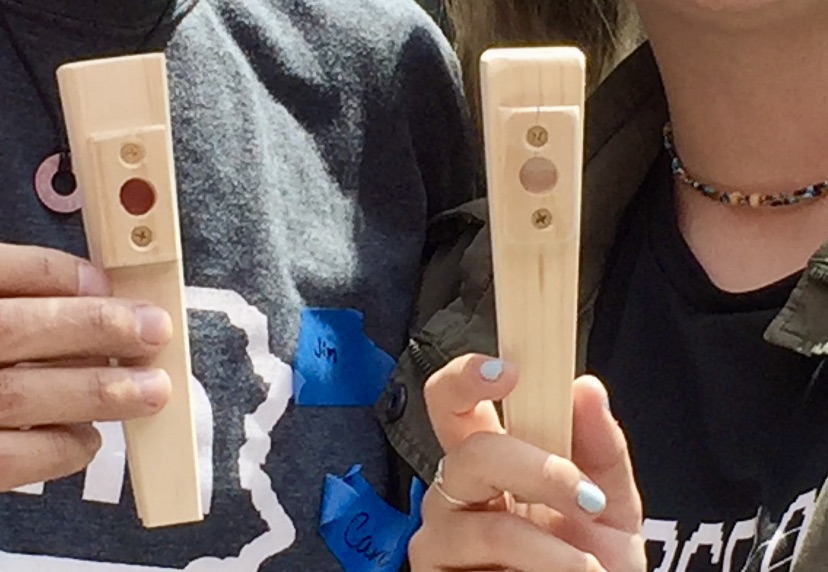 ---
Past Events
March 23, 2023: Jana Marie Foundation "Tranquility Station Project School"
Doing Good with Wood has had a long relationship with the Jana Marie Foundation, a non-profit that promotes mental well-being among young people and their communities. They asked Doing Good with Wood to help them with a "Tranquility Station" project — sort of like a "Little Library" that offers books to a neighborhood, but this one would be for resources related to mental health for adolescents and their family members. The asked us to build a rather elaborate box that will son be available in the "Parklet" near the SCASD Football field. We did and it turned out very nicely. The students designed the box, we provided feedback on the design, and then we built the box they had designed. Now they will finish the box and we will place it in the park with the help of the township staff who will dig the post hole. The photos below follow the reveal of the box as the students were sanding and filling in screw holes. Next they will paint and decorate it, after which we'll be back with more photos!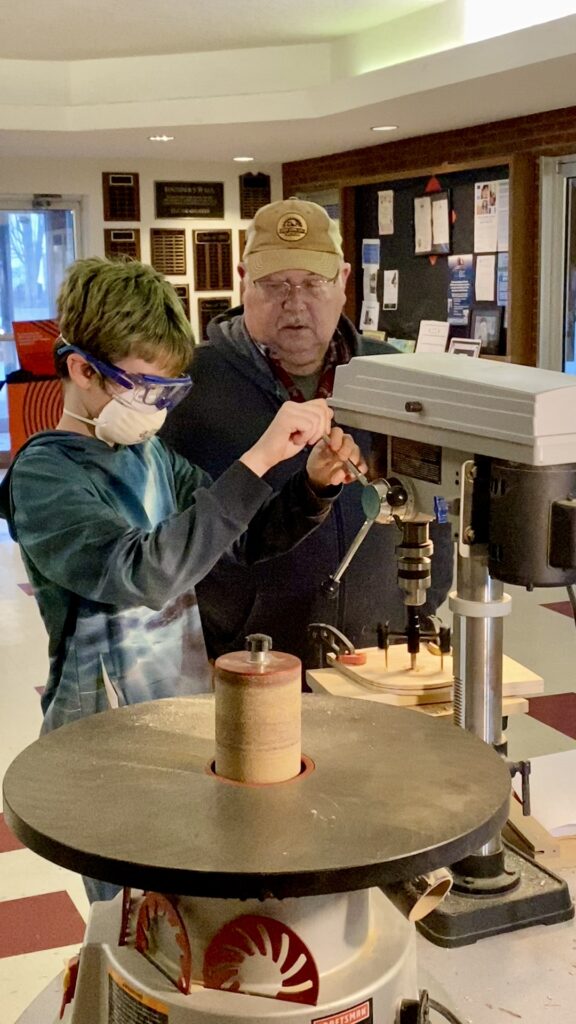 January 10 – February 28, 2023: Wood Shop Class at Centre Learning Community Charter School – Second Trimester
After a successful first trimester class at CLC, we were invited back to work with about 16 students in two back-to-back one hour classes on 8 Tuesday afternoons. During this class students made candy dispensers, clocks, and some had time to also turn wooden keychains.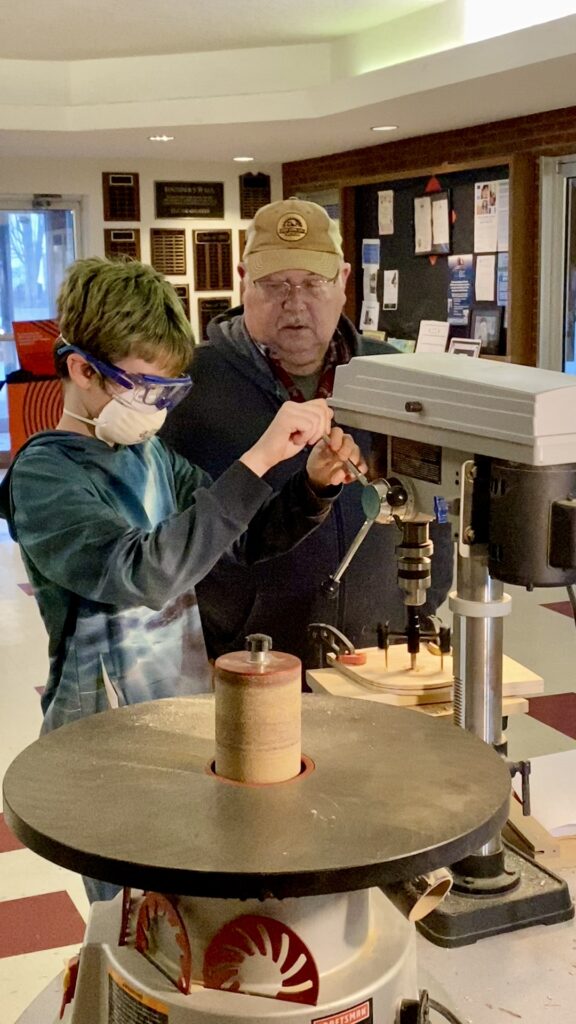 September 13 – December 13, 2022: Wood Shop Class at Centre Learning Community Charter School – First Trimester
Doing Good with Wood was invited to teach a wood shop class at the Centre Learning Community Charter School as part of their after school program. We worked with approximately 16 students after school on Tuesdays, with some students working with us for two hours and some for only one hour. We had fun, and made kazoos and a pretty cool color changing lamp. We also worked with one young man who wanted to only use hand tools. We helped him make a shaving horse (the bench-type tool he is sitting on in the photo below) which he will use to make wooden spoons and spokes for a 1/2 scale covered wagon.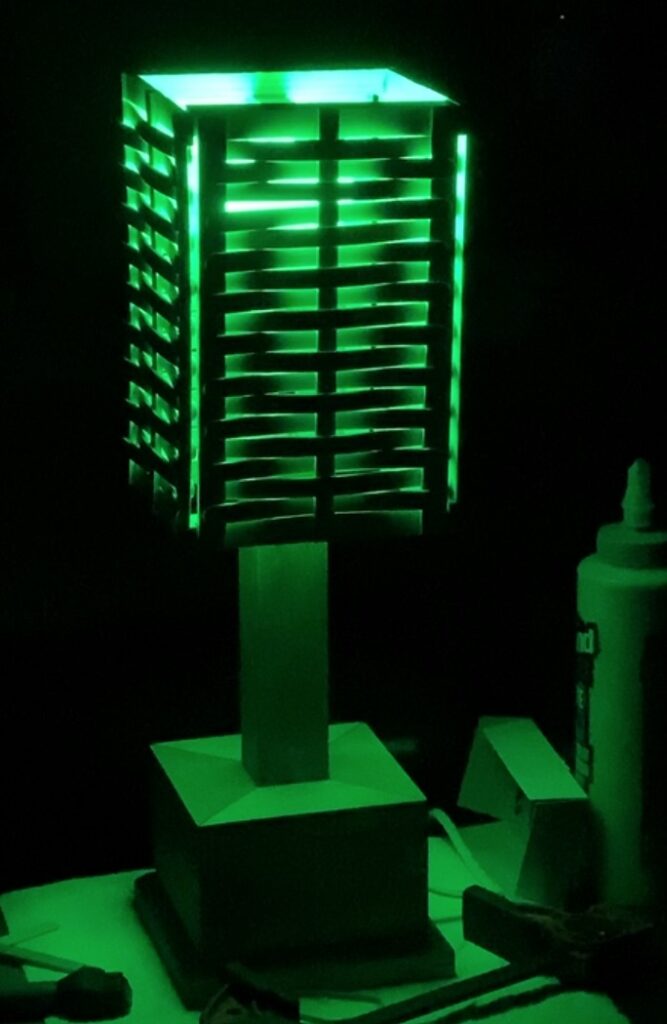 August 17, 2019: Kazoo Making at Ten Thousand Villages State College
DGWW was proud to announce this event in conjunction with Ten Thousand Villages (TTV), a "new friend," we met through Penn State's Intergenerational Leadership Institute. Ten Thousand Villages is a nonprofit organization and retail store on South Atherton Street that carries handcrafted and fairly-traded jewelry, clothing, household decor, kitchen accessories, food (chocolate, coffee, tea, soup mixes, etc.), gifts for children and pets, spa items, greeting cards, and more. Ten Thousand Villages products are made by over 20,000 makers in 30 developing countries under a maker-centered business model. Ethical at every step, TTV ensures fair prices, long-term partnerships, good working conditions, design collaboration, eco-conscious commitments, and empowered voices of women & people who are often overlooked.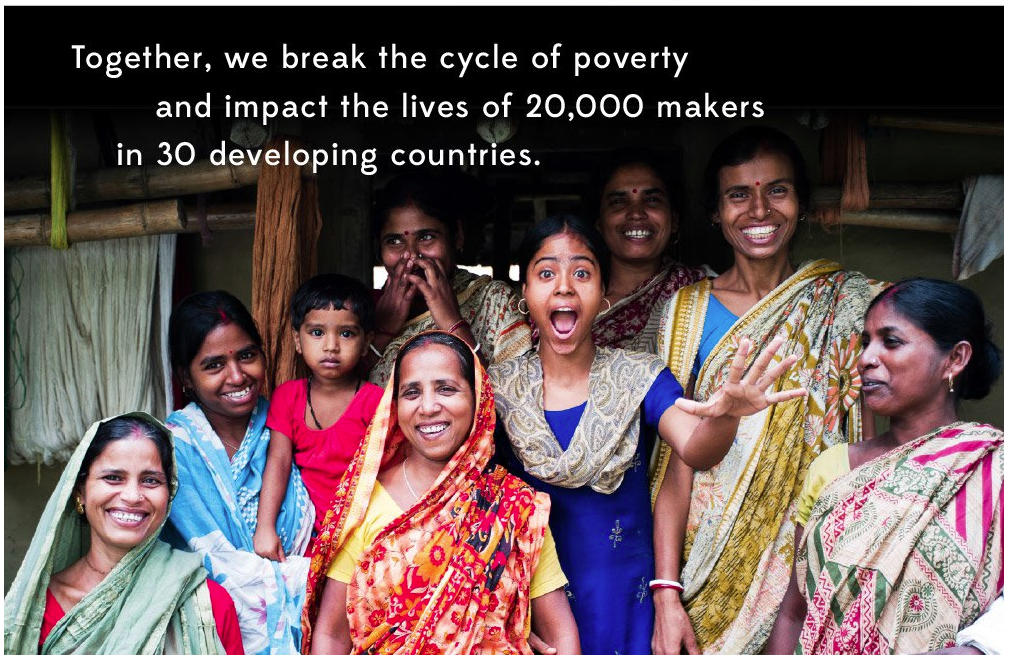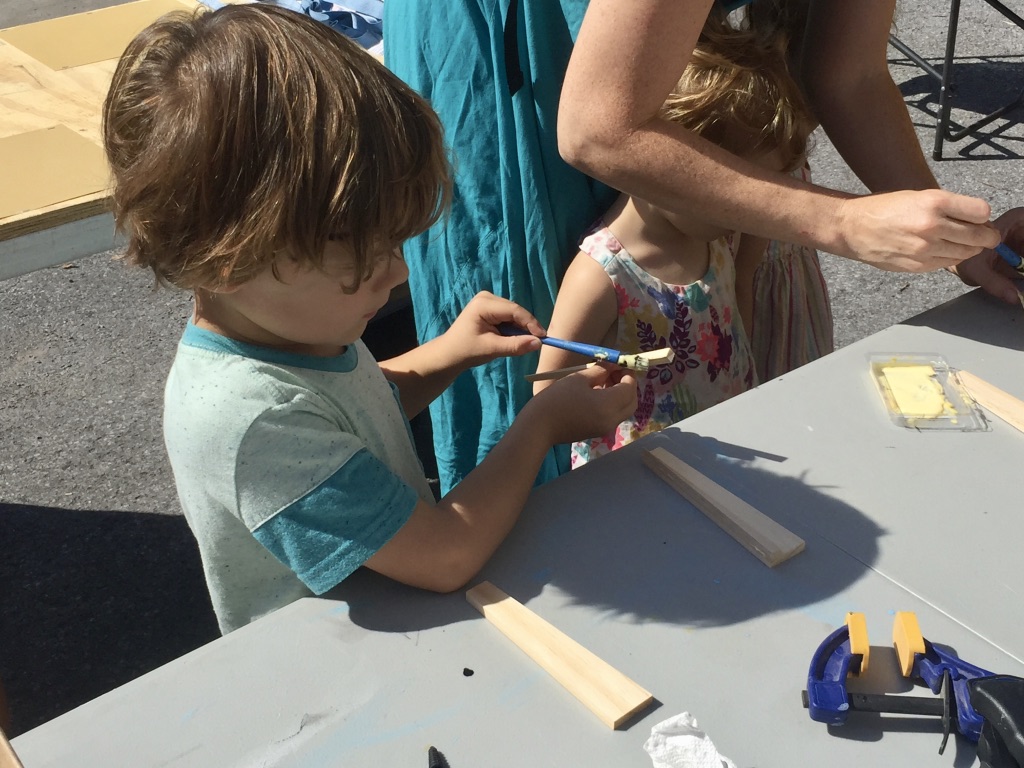 The event was held outside the store on at 1341 S Atherton St, on August 17, from 10:00 to 2:00, and culminated with a "play-along" musical event during which kazoo makers played their new kazoos and others joined them using instruments the store carries that were made in other countries. Staff from Ten Thousand Villages planned and coordinated the play along activity. It was lots of fun!
July 9, 2019: Big Brother Big Sister Kazoo Making in the Park
While participating in the Penn State Intergenerational Leadership Institute and the Intergenerational Friends Fair, we met and quickly formed a relationship with Big Brother Big Sister of Centre County. At the Friends Fair our friends from Big Brother Big Sister had a chance to see our kazoo making event in action, and they invited us to join them on July 9th from 1:00 to 4:00 in Spring Creek Park to host a similar event.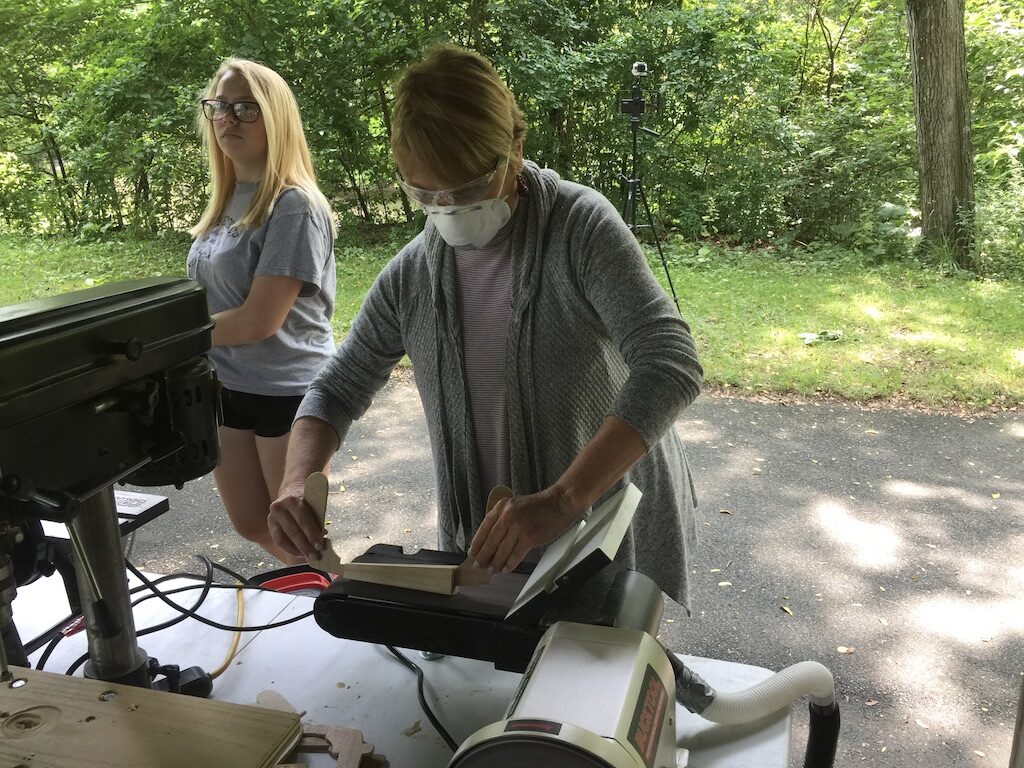 John, Glenn, and Kyle volunteered to supervise the event and we were pleased to draft Eric Spielvogel as a first-time mentor for this activity. It was a great setting, with Spring Creek running in the background, and we were able to work more closely with a smaller group of about 15 people, about 80% on whom were female. Thanks to our new friends at Big Brother Big Sister and to our DGWW Staff as well, for another fun, worthwhile event.
Also, at the request of Big Brother Big Sister Case Manager Zach Maser, DGWW built and donated a corn hole set with the Big Brother Big Sister logo prominently on the front and our Doing Good with Wood logo on the top. Zach and the other case managers will use the set at BBBS events and when recruiting Penn State students as "Bigs."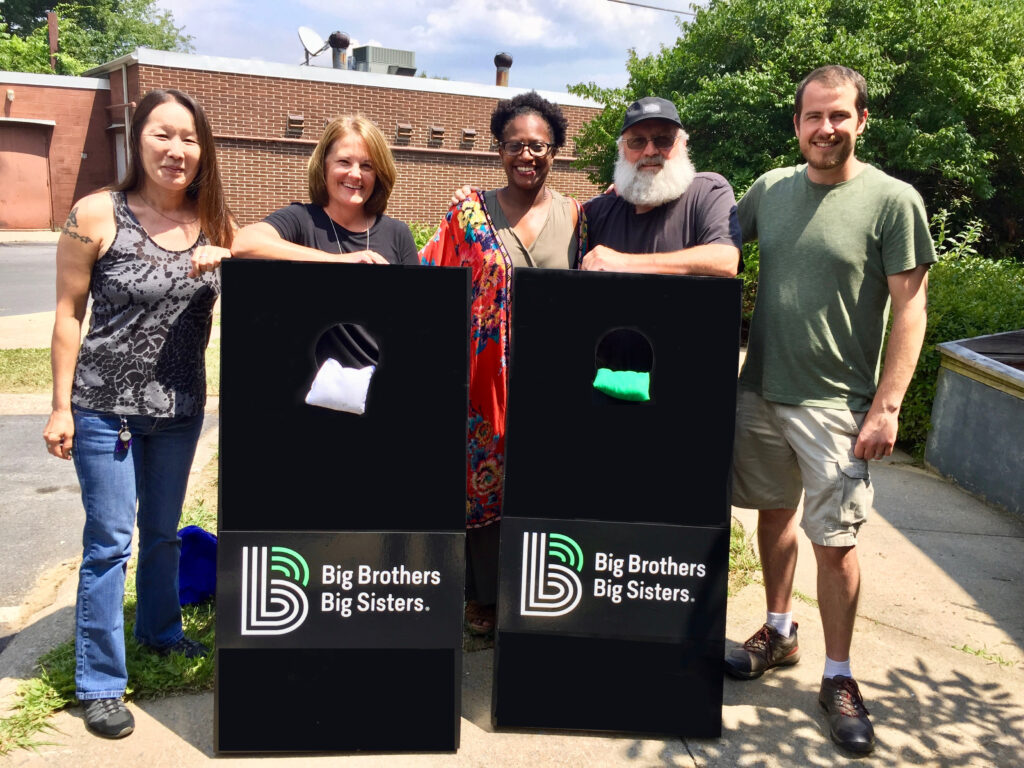 June 1, 2019: The Intergenerational Friends Fair
DGWW had another big success at the intergenerational Friends Fair at the State College Friends School on June 1. Since we did have electricity at this location, we brought the drill presses and sanders, allowing more people to experience working with these tools. We ran one long continuous workshop from 10:00 am to 3:15 pm, and after a brief lull at the very beginning, our mobile workshop was constantly busy with happy people ranging in age from about 5 to about 70 making kazoos. We were so busy that we didn't get many photos, but perhaps we'll get more from the others who attended of the event. Overall, participants made about 50 kazoos.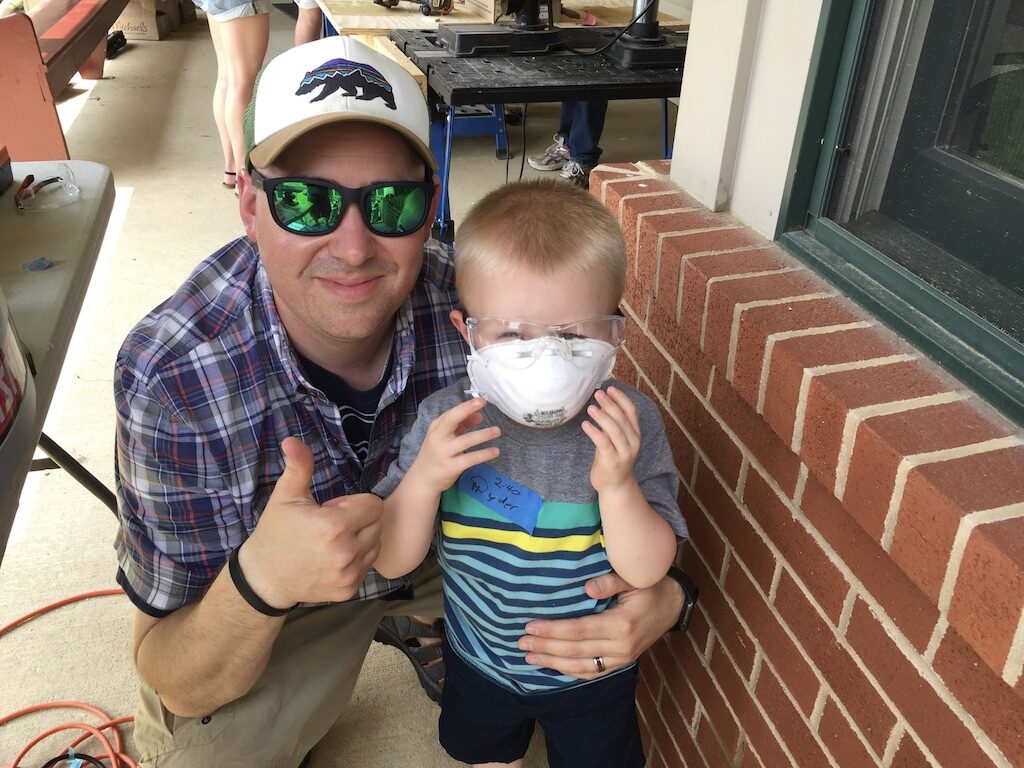 DGWW also featured prominently at the closing ceremony, at which Eric Ian Farmer led the audience of about 45 people through a series of songs spanning the generations (The Wheels on the Bus, Lean On Me, and Lovely Day) accompanied by audience members on kazoos. (Audience members who had not made kazoos were given plastic kazoos.) Kyle presented the event organizers, Matt Kaplan and Lori Paccioli, and the Head of School, Donan Stoicovy, with oak kazoos in gift boxes as a thank you gift from DGWW.
DGWW received a very nice thank you email from Matt Kaplan (PSU event organizer).

May 18, 2019: "J.A.M. Fest"
Doing Good with Wood was invited to participate in "Jana's Art & Music Festival," also known as "J.A.M. Fest." According to the Jana Marie Foundation, this event is "a community-wide mental wellness day designed to help increase well-being, build connections, and foster self-expression. Held annually in downtown State College, the event features live music, yoga, meditation, stations for creative expression, artwork to view, and more," including, for the first time this year, a hands-on activity by Doing Good with Wood.
We ran a wooden kazoo making event designed to fit people of almost all ages, by providing pre-cut parts, glue sandpaper, and advice.
We are very pleased to have been invited to support JAM Fest because, as the Jana Marie Foundation says, "art, music, and creative expression are lifelong sources of resilience, self-confidence, and happiness." We had a great time, and so did about 80 kazoo makers! Thanks to Glenn Johnson, John Seymour, and Kyle Peck for serving as on-site mentors, and to Kathy Seymour for making a great sign for us, and to Glenn for making the easel that supported our new sign.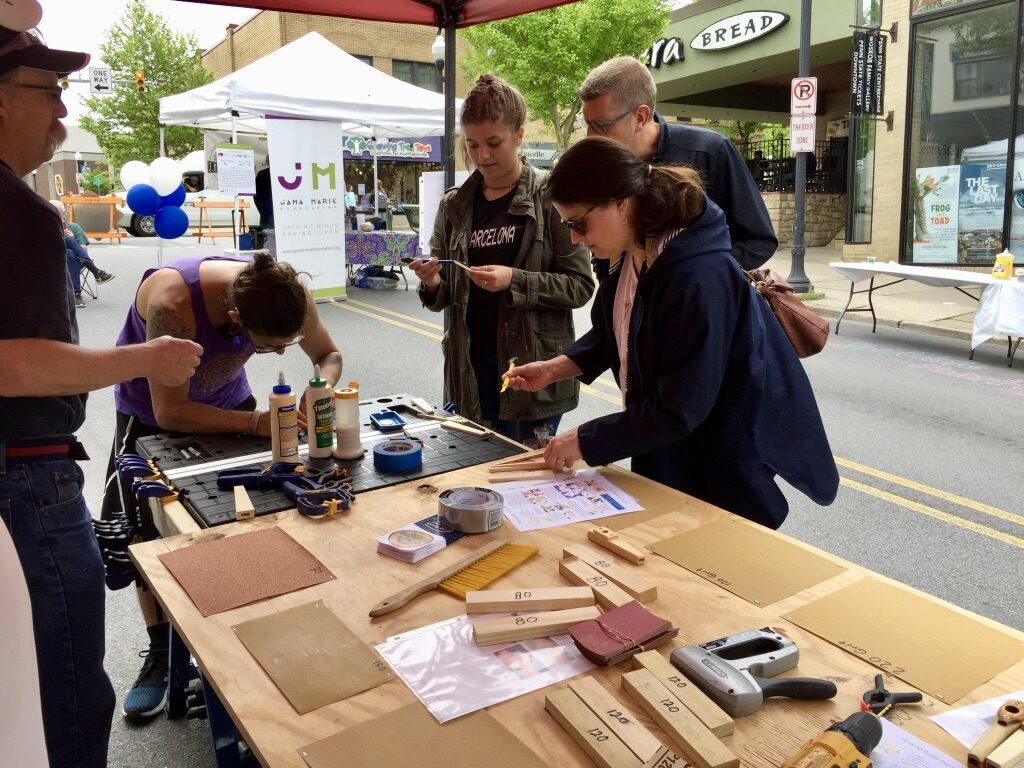 April 1, 2019: Make a Wooden Kazoo Event at The Rivet
Thanks to "The Rivet," State College, PA's new maker space for hosting this super fun, inter-generational event. Twenty-seven people came, watched an 11 minute video, and then built their own beautiful wooden kazoos. After about 60 to 90 minutes, each kazoo was assembled, crafted, tested and finished, and a variety of tunes were proudly broadcast across the room, in a fun environment enhanced by complementary beverages provided by Otto's Pub and Brewery. DGWW provided the materials and most of the tools, as well as instructional materials, and the Rivet provided the space, some tools, safety equipment, and a great set of assistants to help with setup, coaching, and cleanup. We believe that all involved had fun, developed a few basic woodworking skills, and saw how woodworking can be an interesting hobby and an opportunity to meet new people. Here are a few photos from the event. If you have more, please send them to us using the "Contact Us" page or as email attachments to kyle@doinggoodwithwood.org.